For thousands of years, Japanese green tea has been an essential part of gatherings. Drinking tea brings people together and facilitates communication. Green tea also allows you to feel calm and keep your body and mind healthy.
Why not take five minutes to enjoy Japanese green tea as a treat for yourself or when spending time with someone special? It can be the start of a new lifestyle!
There is a Japanese green tea for every occasion. Choose from Aya Green Tea's Japanese green tea selection.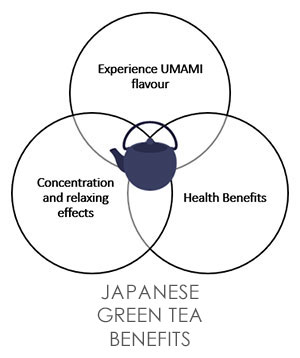 Q. Why do people love to drink Japanese green tea?
A. Because it's full of goodness.
The ultimate deliciousness

In addition to sweetness, saltiness, sourness and bitterness, Japanese green tea also allows you to experience UMAMI, a new Japanese flavour gaining attention around the world.

Health Benefits

Easily obtain EGCg, theanine, vitamins and dietary fiber.

Improves concentration and relaxing effects

Scientifically proven. Theanine helps to produce alpha waves. Because of this, Japanese green tea is growing in popularity with IT companies in Silicon Valley.