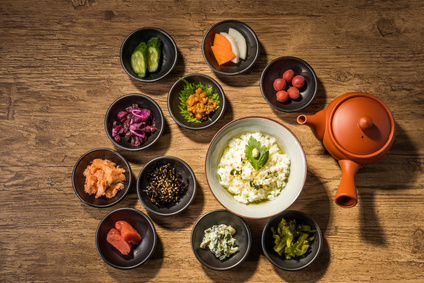 Did you know today is "Ochazuke" day?!
What is Ochazuke?
Ochazuke is Japanese comfort food!
Nagatanien (Japanese popular food company) establishes 17 May as a "ochazuke day". It is also the day of the strong connection with Japanese sencha green tea history……
A date originates in an anniversary of death of Soen Nagatani (17 May, 1778) who invented a process of Japanese sencha green tea and contributed to the spread of Japanese sencha green tea. Soen Nagatani is a founder of Nagatanien (Japanese very famous ochazuke powder company)
This story starts from Eisai.
"The Zen monk Eisai (1141–1215) is generally credited for popularizing tea in Japan. In 1191, Eisai returned from a trip to China and brought back tea seeds which he planted on the several places around Japan.

In 1211, Eisai wrote the first edition of the Kissa Yōjōki (Drink Tea and Prolong Life), the first Japanese treatise on tea. The Kissa Yōjōki promotes the drinking of tea for health purposes. It opens with the statement that "Tea is the most wonderful medicine for nourishing one's health; it is the secret of long life."

Eisai was instrumental in introducing tea consumption (mainly matcha) to the samurai class. He presented a version of his Kissa Yōjōki in 1214 to Shogun Minamoto no Sanetomo, who had been suffering from a hangover after drinking too much sake. Eisai also served tea to the young shogun. Zen Buddhism, as advocated by Eisai and others, also became popular during this period, particularly among the warrior class. Soon, matcha green tea become a staple among cultured people in Japan—a brew for the gentry and the Buddhist priesthood, alike. Production grew and tea became increasingly accessible, though still a privilege enjoyed mostly by the upper classes.

In 1740, Soen Nagatani developed Japanese sencha green tea, which is an unfermented form of green tea. To prepare sencha, tea leaves are first steam-pressed, then rolled and dried into a loose tea. The dried leaves are brewed with hot water to yield the final drink. After sencha is introduced, ordinal class of people had an access to enjoy green tea in Edo period and became one of Japan's most popular green tea nowadays."
Source: Wikipedia History of tea in Japan 
Ochazuke is a simple rice dish served with green tea, steamed rice, and an assortment of savory ingredients. 
Recipe is quite easy and simple! It is ideal meal for midnight snack or after drinking. You just need a bowl of steamed rice, green tea and your favorite savory ingredients such as salted salmon, sour pickled plum (umeboshi), nori seaweed, salted kombu (shio kombu) etc. Various kinds of green teas are commonly used for ochazuke. Dashi broth can be also added.
My easy lazy recipe
Steamed rice
Salted kombu
Sour pickled plum
Chopped spring onion
Pinch of salt
Dashi broth powder
Green tea powder
How to cook: Heat up the steamed rice if it is cold. Everything into the bowl. Pour the boiling water. All done! Ready to eat in 3 minutes!!
Also there is a beautiful recipe of ochazuke can be found below.
Aya Green Tea offers you 3 kinds of suitable green tea powder for the Ochazuke. Please try!
Comments are closed